About us
Service to Braj is service to Shri Krishna - We believe it, we live it
Shri Maan Mandir Seva Sansthan in the service of Braj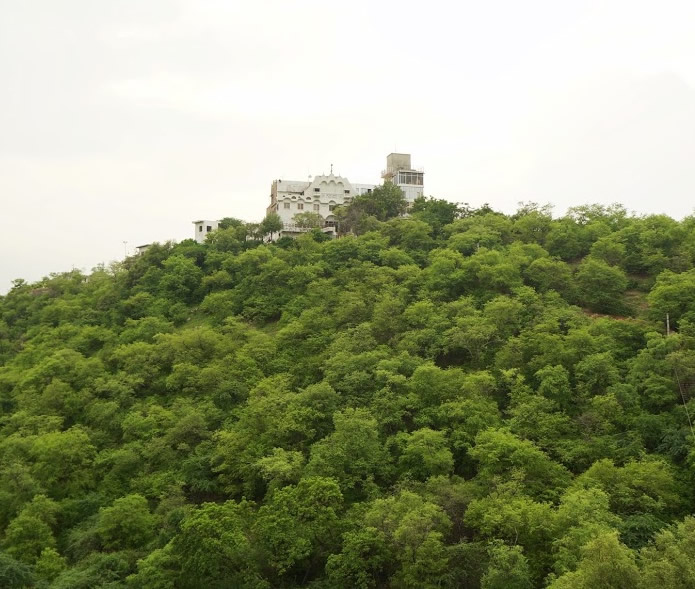 "Shriji is the source of all the power"
Maan Mandir is located at the hill top of the Maan Garh, also know as Maan Ghaati. It is one of the four mountain tops of Barsana. Maan Mandir as an organization has been working very hard in protecting and preserving 5000 year old cultural and spiritual heritage of the Braj region. Maan Mandir is also know as "Shri Ramesh Baba Ji Maharaj". These two names are synonymous to each other. Maan Mandir Seva Sansthan has been working under the guidance of Shri Ramesh Baba Ji Maharaj for Saving and Serving Braj Dham.
Shri Maan Mandir has been instrumental in spreading Bhagwan Naam in all over the braj and beyond, restoring Kunds (water bodies),  protecting 4000 sq hector mountain land and converting it into reserve forest area, protecting over 23000 cows, creating authentic encyclopedia of Braj, conducting the largest Braj 84 Kos Yatra – Radha Rani Braj Yatra, among other countless efforts.
Shri Ramesh Baba Ji Maharaj always says that the energy, inspiration, and the power behind all the work that Maan Mandir has been able to do actually comes from Shriji and Shri Krishna. It is because of the Aaraadhan (worshiping Shri Radha Madhav) and Upaasana that we do everyday. It is because of total dependance on Shriji's lotus feet.
Our Mission
Maan Mandir Sewa Sansthan Trust is a Hindu religious registered organization with its Head office at Gahvarvan, Barsana, Distt. Mathura, Uttar Pradesh, India. Our principle objectives are to:
Promote universal peace message of Hindu religion and its spiritual education without any discrimination of cast, sex, religion and nationality.
Bhagawan Naam Sankirtan and establishment of Prabhat Pheries in more than 100,000 villages of India.
Explain the philosophy and Sanatan (eternal) way of leading a life as revealed in Hindu religious scriptures such as Srimad Bhagavatam, Srimad Bhagvad Geeta, Vedas, Upnishad, Purans and Shastras.
Explain and demonstrate the culture through narration, dance and music of the ancient Braj region where Radha and Krishna appeared and performed their pastime.
Discover and restore Braj Leela Sthali (Places of pasttime) as per the descriptions given in various scriptures such as Braj Bhakti Vilaas, Garga Sanhita etc and others.
Celebrate Shri Radha Jamnashtami, Shri Krishna Janmashtami, Rangeeli Hori, Shri Krishna Leela Depictions, Raas Leelas etc.
Provide assistance to the organizations engaged in protection, restoration and maintenance of age old places of importance like temples, Leela places, sacred hills, Step wells (Kunds and Sarovars), Sankirtan places etc.
Protect river Yamuna from pollution and to bring an awareness amongst the people to restore river Yamuna to its glory.
Get in touch - Join hands with us
If you are interested in working together, send us an inquiry and we will get back to you as soon as we can! Jai Shri Radhe!