Radha Rani Braj Yatra
The largest 84 Kos Braj Yatra on the planet. A 40-day long blissful festival around Braj in search of
Shri Radha Krishna
Pilgrims Attend Every Year
Days Long Blissful Braj Festival
Hours Non-Stop Sankeertan
How To Protect Yourself and Others From COVID During The Yatra
To help prevent the spread of COVID-19:
Wear a mask to protect yourself and others and stop the spread of COVID-19.
Stay at least 6 feet (about 2 arm lengths) from others who don't live with you.
Avoid crowds and poorly ventilated spaces. The more people you are in contact with, the more likely you are to be exposed to COVID-19.
Get a COVID-19 vaccine when it's available to you.
Clean your hands often, either with soap and water for 20 seconds or a hand sanitizer that contains at least 60% alcohol.
Avoid close contact with people who are sick.
Cover your cough or sneeze with a tissue, then throw the tissue in the trash.
Clean frequently touched objects and surfaces daily. If someone is sick or has tested positive for COVID-19, disinfect frequently touched surfaces.
Monitor your health daily.
Radha Rani Braj Yatra is totally FREE of cost
Following services are provided for FREE
Free food
Food will be served twice a day. Lunch is served after the Yatra reaches the destination Paandaal. Dinner is served before or after the evening lecture depending on the schedule of the day.
Drinking Water
There are a number water tankers that are kept with the Yatra Paandaal for providing drinking water. Water from these tankers should not be used for drinking purpose.
Morning tea with snacks
Every morning Yatrees are served with tea and snacks. Sometimes Brajwasis from the villages being visited offer snacks on the way to the next destination. Normally, announcements are made before hand so that Yatrees are prepared for it.
Transportation of Luggage
Your luggage  will be moved by the transportation vehicles, provided by the Yatra management, from one place to another. You are required to follow instructions from the management on transportation arrangements.
Shared Tent For Stay
All Yatrees are place under shared tent. Majority of the Yatrees stays under the mega shared tent. Depending on the avaliable space, the Yatra management may decide to setup additional small tents to accommodate  Yatrees.
Transportation for Injured
If any Yatree gets injured and not in a shape to walk, we may provide transportation to take them to the next destination.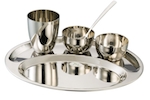 A Plate, Bowl, and Glass
You are expected to bring a plate, bowl and a glass with you. Food will be served in your utensiles. You can bring more dishes as per your personal needs such as additional food containers.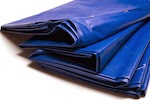 A Thick Plastic Sheet (Tirpaal)
Please also bring with you a thick plastic sheet, also known as Tirpaal. It is easily available in any hardware stores. It should be laid on the floor first below your sleeping bag or cloths to stop the dampness.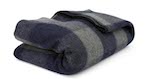 One or more warm Blanket
The month of Kaartik is a good mix of warm and cold weather. Days are warm and nights are cold. During the last days of the yatra, teh nights get really cold. Please make sure to bring one or more blankets with you for the cold weather.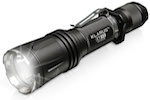 One or more flash lights (Tourch)
Yatra leaves early in the morning, sometimes it is dark, you may need to use a flash light. Similarly, if you opt to answer the nature's call in the open field, you may need the flash light as it gets dark in the mornings and evenings.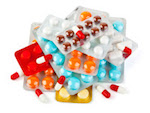 Your Medications
Radha Rani Braj Yatra tries to help take care of the common seasonal medical needs such as common cold, cough, fever etc. If you are on any individually prescribed medications, please bring them with you. We may not be able to provide them.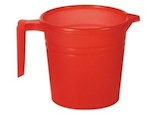 A container for holding water
It is very difficult to arrange for custom toilets to support over 15,000 people, therefore toilet duties are performed the natural way in open fields and farms. Please bring a mug or any other such container for carrying water with you for the purpose.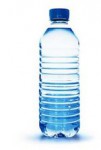 A Water Bottle
The Yatra starts early in the morning and walk for around 6 hours or so everyday. During this time, you might want to keep water with you. We recommond to keep a water bottle with you.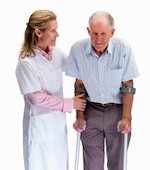 Help For Elderly
At times, old people want to do the Yatra. It is not fisible for the management to arrange for a help for older Yatrees. If you are old and need another person to help you for your day to day activities, please bring your help with you.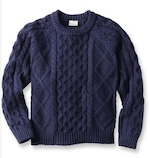 Warm Clothes
Kaarthik month falls in winter. Days are warm but nights are  cold. Sometimes the nights are very cold. Toward the end of the Yatra, the nights are very cold. Therefore, please bring warm cloths with you such as blankets, sweters, scoks, hand gloves, jackets etc.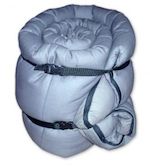 Sleeping Bag (Bistar Band)
We recommend you to bring a Sleeping Bag (Bistar Band) with you. It allows you to pack most of your clothings in it. It also fucntion as your night time bed. It rolles up into a compact manageable size that is easy to carry.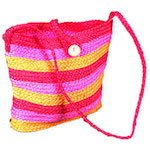 Carry Bag for the Way
Every day, Yatra walks for 6 hours or so for about 12 KMs. During this time, you may want to carry snacks and water bottles. A comfortable carry bag will allow you put all things in the carry bag which is much easier to carry.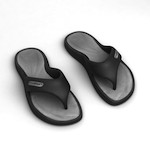 Easy On-Off Slippers or Shoes
Most of the Yatrees do not put on any shoes or sleepers while walking in the Yatra in order to observe respect for Braj Yatra. If you are planning to use them, please use the one that is easy to put on and off as you need take them off frequently to enter the temples for darshan.
What Is Radha Rani Braj Yatra?
About Braj 84 Kos Yatra
Radha Rani Braj Yatra is an yearly Braj 84 Kos yatra that takes place in Braj region. Braj 84 Kos is a very famous event among Braj Bhaktas. It carries significant importance in Braj Upaasana. The objective of the yatra is to visit Leela Sthalies of Braj where Shri Radha Krishna performed various Leelas. Usually the yatra lasts for some days and every day has a plan to visit certain pre- determined Leela Sthalies. The organizer or the prime priest tells about the Leela associated with the Leela Sthali being visited.
History of Braj 84 Kos Yatra
As per Krishna Leela in 10th Skanda of Shrimad Bhagwat Maha Puran, Brahma Ji was not convinced that a little child known as Krishna is God himself.  He could not believe his eyes when he saw that a boy who is steeling half eaten food not from the buckets, but from the mouth of his friends, and drinking Chhaachh (Butter Milk) from a stream coming right from the mouth of His friends, is God Himself. He thought He is a child with special powers. He wanted to test if He has Godly powers. To this effect, he planned to steel cows and His Gop and Gwaal friends. He did steel them from the forests where they used to take their cows for grazing and placed in deep sleep in the Brahma Lok.
Shri Krishna already knew about Brahma Ji's intention and decided to break his Moh (illusion). He took the form of his Gop Gwaal friends and the cows. No body knew this fact for an entire year. Brahma Ji went back after an year to see how Krishna handled the situation. To his surprise, Krishna was still playing with all his same old friends and cows. Brahma Ji got confused. Prayed to God to take his confusion away. Shri Krishna showered his mercy on him and he finally realized that Krishna was God Himself.
Brahma Ji felt very bad and wanted to get rid of this sin.  He asked for pardon from Shri Krishna but He explicitly told him that it was a sin committed towards Brajwasis and Braj Dham, even He does not have powers to pardon it. The only way to remove is to do Parikram of Braj Dham filled with deep sentiments (Bhaavs) for Braj Dham. Ever since then Braj 84 Kos yatra or parikram became a tradition of Braj. It is said that Braj 84 Kos can get your ALL sins washed aways if performed with the intention.
Braj 84 Yatras In Braj
There are a number of Sampradayas and Sects that conduct Braj 84 Kos every year or every other year. Yearly Braj yatra hosted by Vallabha Sampradaya is known to be the oldest at present time. It is being conducted for past 500 years. Most of these Braj yatras use buses, cars or other vehicles to do the yatra. Usually these Braj 84 Kos yatras span between 15 to 20 days and cost anywhere between Rs 10000 to 5,00,000.
There are around 250 primary Leela Sthalies in Braj that are visible today. However, the modern day's Braj 84 Kos yatras do not cover all of them, only few popular ones are visited. These yatras visit mostly the  popular destinations of Braj such as Vrindavan, Gokul, Govardhan, Nand Gaon, Barsana among others.
A Unique Braj 84 Kos –  Radha Rani Braj Yatra
Radha Rani Braj Yatra was started by Shri Ramesh Baba Ji Maharaj in 1988. The origin of the yatra was the result of the endless mercy and compassion in the heart of Shri Baba Maharaj. It was very painful for him to think about the possibility of a poor bhakt to do Braj 84 Kos provided such a high charges for the yatra. There is no way a poor person or a detached saadhu who has given up everything for Krishna can perform this yatra. With this objective, he started Radha Rani Braj Yatra. This yatra was not named after him or any temple or Sampradaya. It was named after Shri Radha Rani.
Radha Rani Braj Yatra is unique because it is actually run by Shri Radha Rani Herself. Shri Baba Maharaj says that he started this yatra with total dependance on Shri Radha Rani in a sense that all the needs for the yatra will only be taken care of by Shri Radha Rani. He will not spread hands in front of any human being for anything. He firmly believed that the holy name of Shri Radha Rani and Shri Krishna has power of fulfilling all the needs of the yatra.
The first yatra was interesting. Everybody in the vaishnav world thought that starting Braj 84 Kos by a "just another" saadhu who lives on Bhiksha was a joke. And the so called "joke" would fall flat in a day or two. Nobody believed when Shri Baba Maharaj said that Shri Radha will take care of everything for the yatra. However, to everyone's surprise, Radha Rani Braj Yatra was a huge success. People could not believe that a simple saadhu living on Bhiksha could complete the yatra with such a joyous, delightful way.
Radha Rani Braj Yatra is still being run with same spirit. It is a 40 day long joyous celebration exploring and experiencing Braj Dham. During the entire yatra, there is Akhanda Bhagwan Naam Sankirtan with melodious classical tunes. Over 15,000 people participate in the yatra every year from different parts of the country.  There is NO cost on yatrees to attend it. Food, lodging, tenting, basic medicines, transportation, among others are totally free of cost.
It is the Bhagwan Naam that is the protector and care taker of the yatra. Shri Radha Rani is in charge of it. In the history of the yatra, there was NO effort made to ask for any kind of financial help or other kind of help from anybody. Doing so will be an shear insult of Shri Radha Rani's mercy as per Shri Baba Maharaj.
Radha Rani Braj Yatra is the largest Braj 84 Kos yatra today. It is the ONLY Braj yatra that is totally FREE of cost.  Now, all Sampradayas and Sects have acknowledged that Radha Rani Braj Yatra is of its kind and Shri Ramesh Baba Ji Maharaj only can run it. It is beyond their means and capabilities to run this yatra for free. Shri Baba Maharaj says that it is because it is run by Shriji not by him.
Radha Rani Braj Yatra starts on the second day from Dussehra and usually last for 40 days. Its starts from Barsana and ends at Barsana Gahvarvan. You are most welcome to join us at the yatra along with your family and friends. If you cannot do it for complete 40 days, you can do for days of your choice. You are free to join and/or leave the yatra any time you like.
A Few Moments Captured From The Yatra…
While walking in the yatra, please chant Bhagwan Naam or keep quiet. This is the only cost of the yatra.
Smoking is prohibited in the Pandaal and while Yatra is walking in the morning.
Please bring a copy of your photo ID.  This will be used for the registration process to enroll you.
You must walk behind the Deities of Shri Radha Krishna during the yatra unless otherwise asked for.
Yatra schedule can be changes anytime by the management as allowed by the given circumstances.
Important Contact Numbers
For More Information about Yatra
+91 9927194000, +91 9927338666, +91 9837014602
To Talk to your relatives doing Yatra
 +91 7500565000, +91 7500665000, +91 9837564488, +91 9927396085