Mataji Goshala
Serving over 50,000 cows
NO Cow is EVER Denied
A Unit of
Maan Mandir Seva Sansthan Trust
No living creature on this planet calls it's mother
,/p>
"Maa"
except a calf (a baby cow) and a human being
The project of Gau Sewa and Gau raksha, was founded by Param Pujya Shri Ramesh Baba Ji Maharaj, a renounced saint living in Maan Mandir, Barsana.  The project Mataji Gaushala was started on 7th July, 2007 by adopting only 2 cows, which were brought from the road side
The cows are invariably captured and taken for slaughtering by a particular society
In order to save cows from slaughtering, Shri Ramesh Baba Ji started the project with a SANKALP to own 1 lakh cows in this Gaushala.

He envisions to connect every villager with cow.

In the year 2008-09, construction of cow blocks and storage sheds for the capacity of serving 8000 cows
In year 2009-10 with over 12000 cows, the Gaushala was further expanded by constructing more sheds and mechanizing daily operations

In year 2010- 2011 with over 15000 cows, hospital for treating ill cows was established, construction of more storage sheds and new milk blocks, addition land was purchsed for creating a new extention of the gaushala. With the extention, the total area of the Gaushala land is 45 acres

In year 2014-15 with over 38000 cows, we are in the middle of setting up Ayurvedic Pharmacy, one of the largest Biogas plants in India, further expansion of the Gaushala with over 86 acres of land

To save cows from sickness, starving and slaughtering
To perform service to cows by keeping them in the Gaushala and provide conducive environment proper feeding and proper medical facilities

To ensure protection by keeping them in the Gaushala under own control and super vision and not to part any cow, calf, ox, bulls to any individual or any organization for any social or commercial benefit.

To parent other smaller Gaushalas

To take steps towards a sustainable Model for Gaushala

To promote Cow Based Economy in surrounding areas

To cremate the dead cows in proper manner with due love & respect

To Establish the significance of Cow as 'mother for all' through out the world.

To exhibit and present importance of cow wealth

Cow Management and Infrastructure development

Expansion, Feed Management And Storage

Hospital, Panchgavya & Ayurvedic Pharmacy

Biogas& Bio fertilizer Plants

A2 Milk Production And Breed Improvement of Indigenous Breed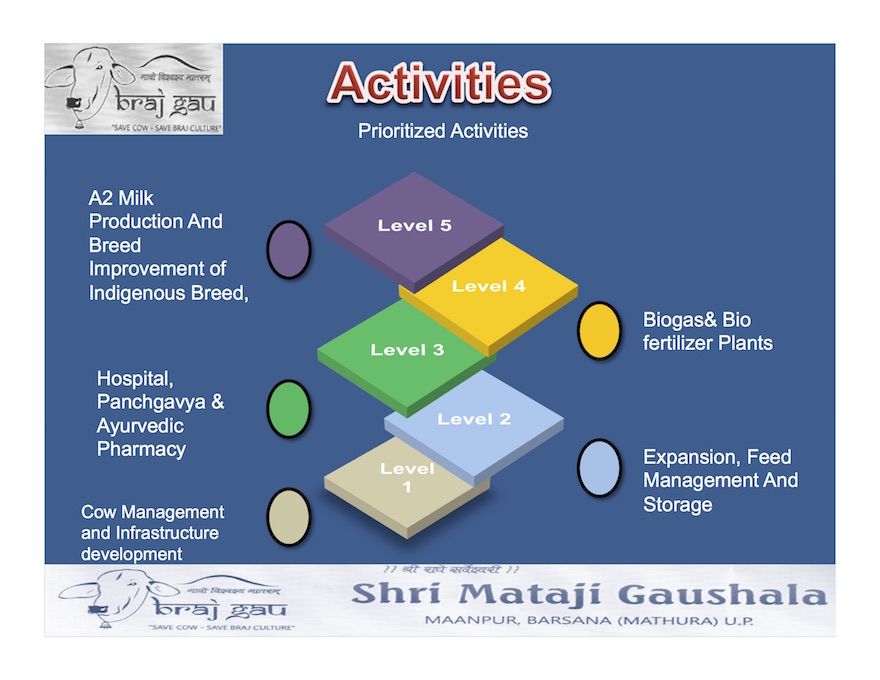 Gaushala Contributions to the Economy
Level
Operations
Contribution to Economy
5
A2 Milk Production and Breed Improvement
•Scientific evidence suggests that milk from zebu (humped) cattle has several advantages over the milk of exotic European varieties of cattle.
4
Biogas and Bio-fertilizer Plant
•Promotion of organic farming

•Bulk availability of bio fertilizer and bio pesticide at economical rate.

•Promotion of generation of electricity from cow dung

3
Hospital, Panchgavya & Ayurvedic Pharmacy
•Pharmacy provides health remedies to locality

•Pharmacy has in-house production of Ayurveda medicine

•Easy cremation of dead cows

2
Expansion, Feed Management and Storage
•Employment Generation

•Contract Farming

•Increase in prosperity of local farmer

1
Cow Management and Infrastructure development
•We use 7 TMR Machine to feed our cows which also generate employment opportunity
Cow Management and Infrastructure
Logistics at a Glance
Covered area is 28000 sq.mt.
Present Area of Gaushala : 86 acre
Number of Cows : 45000
Number of tractor : 22
Number of worker : 250-300
Number of JCB : 2
Number of Loadall :1
Number of TMR machine : 7
Number of Large Fodder Houses: 12
( Fodder for 10 months can be stored for 45000 cows)
Number of Heman Vectra machine : 1
Number of chipping or cutting machine : 3
Hospital with modern amenities: 1
Gobar gas plant having capacity of 60 tonnes: 1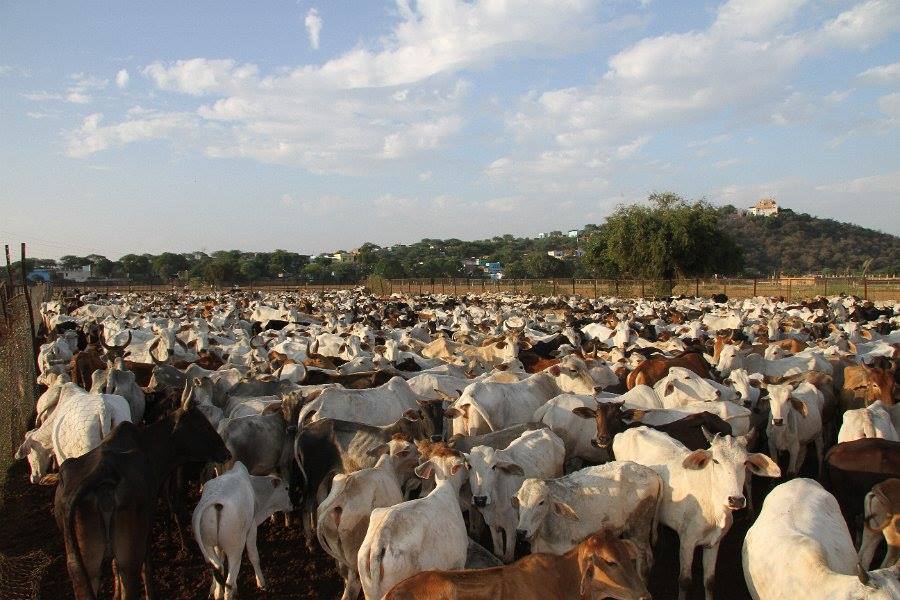 Dhanvantri (Animal Hospital)
Panchgavya Auyvedic Clinics
More than 25 panchgavya products are produced which are in regular demand.
The Pharmacy shall have individual production lines of each product with high quality standards.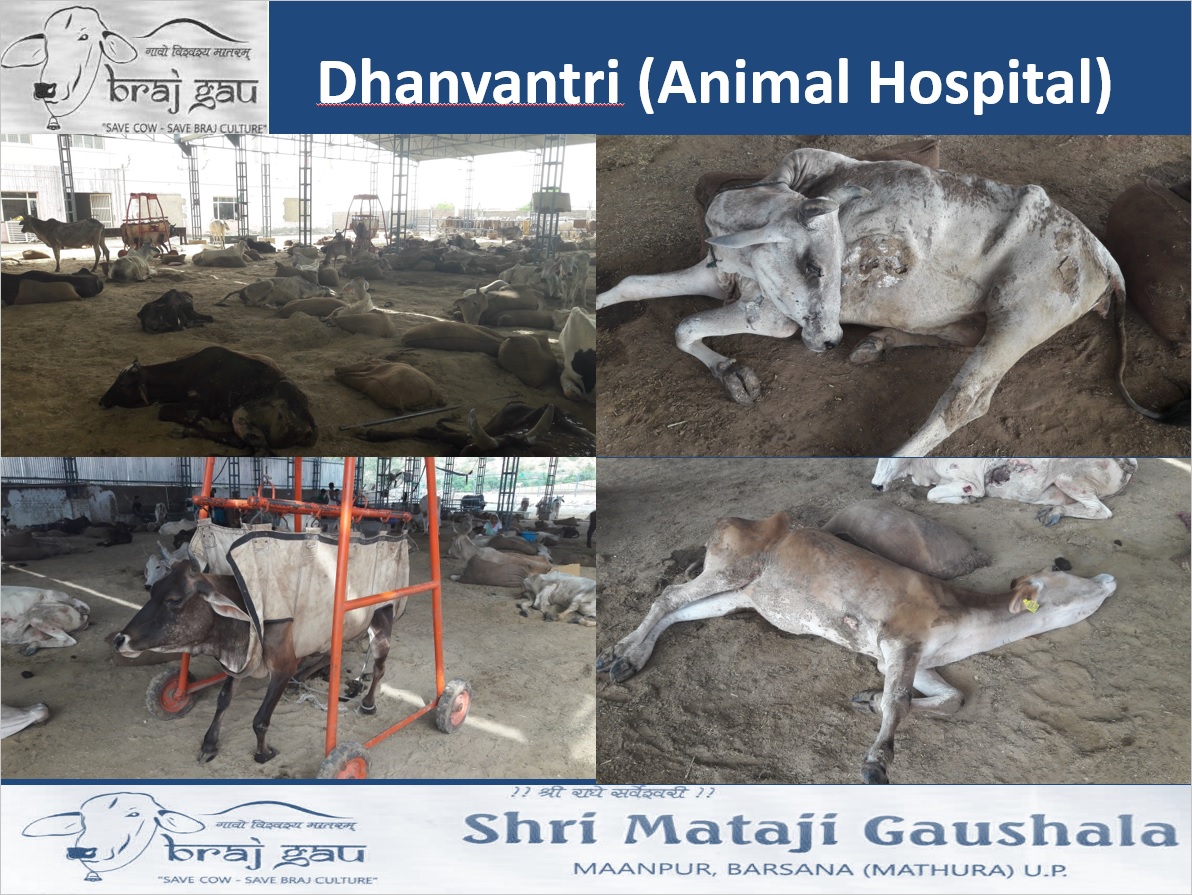 One of India's Largest
Bio-gas and Bio-fertilizer Plants
With 200 Ton bio material Per Day (TPD)
This is yet another service offered
to the lotus feet of  Shri Shri Radha Maan Bihari Lal
Send all your comments or questions to [email protected] 
"Story of a Cow" – Must Watch!!
(At the time of making of this presentation, the number of cows were 28,000. Currently the numbers have increated to 45,000 and counting)
The Divine Bhaav (Objective)
Behind the Gaushala